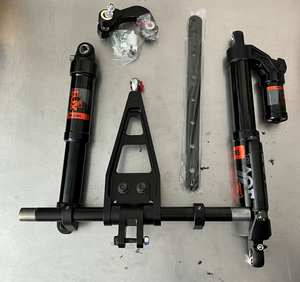 Currently stocking Rear Torsion delete kits for G4 146,154,165 suspensions

This is the product that put us on the map. Ski-Doo built the most capable mountain sled in the world, less one problem: They kept age-old torsion bars to support the skid and control weight transfer and absorb bumps. 
We've been doing away with torsion bars nearly 15 seasons, and the result is phenomenal. For the 21-22 season, our kit was the best we have ever developed. More control, less effort, better utilization of your sled's horsepower.  
The sled will get on top of the snow faster, land big airs in a far more controlled fashion and be a joy on the trail. If you have money for one upgrade to your sled, let this be it. It will make you a better rider, day in, day out. It also drops around 2.5 pounds from the sled! Learn more here. 
These kits utilize our Elevation  skid, our take on articulation. Unlike Ski-Doo's T-Motion, this skid can articulate at two points. This allows the track to more quickly find traction, is incredibly easy to ride yet will not wash out on a sidehill as the track is remarkably good at holding an edge due to this design. 
We offer this kit with Fox shocks. The kit include new billet arm, billet rocker, and all hardware. 
Premium Lockout: Float QSL-R Rear Track Shock (has a lockout); Float 3 Front Track Shock $1750.00 kit 
Premium Lockout features a QSL-R damper, with 2 position compression setting, 1 lockout setting and a rebound adjustment, with 3 different rebound settings.
 Why use a lockout on the shock for technical riding?  This allows a substantially higher compression adjustment, thus slowing down and or controlling ski lift in very technical riding conditions. This application is also well suited for turbos, to help control ski lift . 
All shocks will be valved for your rider weight, sled, and riding style. 
Product TBD, Installation instructions terrible
As popular as the Gen4 platform has been, I was surprised to find there was not a video specific to the Gen4 install. The directions provided are BARE MINIMUM and with no video, or pictures, there was not much in the way of help.
I hope I did everything right, but I will have to wait until next season to find out. Fingers crossed!
Ski-Doo 850 Gen4 Rear Air Suspension Package & Torsion Bar Delete